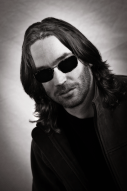 Radu Belasco is NOT a urologist.
He's not a medical doctor or expert, either.
He never studied anything even remotely related to medicine, pharmacology or wellness in school. And, in fact, the only thing he considers himself an "expert" about is… he believes he can help almost any man fix their prostate problems fast — and without drugs, surgery or dangerous (and manhood-stealing) procedures.
He believes this because he did it.
And, he did it without any invasive exams or surgery, taking any prescription drugs or spending very much money at all.
Here's what happened:
Radu first started having prostate problems when he was in his early 30's which is very young to have prostate problems. However, these issues run in his family (his dad, uncle, grandfather ALL had prostate cancer and problems). It's like a "family curse" for him. And every male in his immediate family has been warned about it and told to get regular prostate exams.
Radu's symptoms started when he had trouble urinating, constantly dribbling and a sudden loss of sex drive. He also started experiencing painful, "pin prick" ejaculations during sex, too.
All of this scared him into doing some intense research on the subject.
So he started doing a LOT of research, and trying various alternative ways to deal with it. Being highly suspicious of prescription drugs, he researched the common natural prostate remedies like saw palmetto, beta-sitosterol and eating lots of cooked tomato products. But none of them did the trick. (Which did not surprise him because, after all, if these popular solutions REALLY worked, we wouldn't have this huge prostate problem epidemic on our hands in the first place…)
It took months and he spent a lot of money in "trial and error."
Until, one day… almost by accident… he made a series of discoveries that quickly and cheaply ended his prostate problems.
And, they did not cost very much money at all.
He wrote these discoveries down in his "21 Day Prostate Fix" eBook.
He also writes free daily email tips on the subject for men with prostate problems who are interested in the subject.
There is no credit card required to get these tips.
And, you can stop receiving them at any time, for any reason, immediately and without hassle.
More:
If you subscribe to his free prostate tips today, you will also get Radu's free report titled:
"The Prostate Healing Food
That Is So Sexually Potent
Priests Were Forbidden To Eat It"
Go here to get his free tips and report today:
http://prostateproblemsfixed.com/free-report